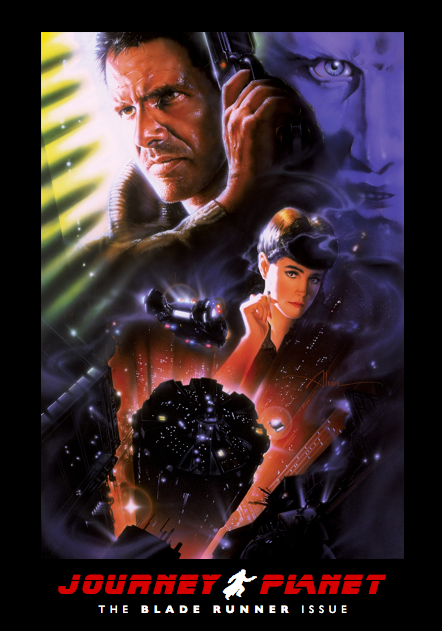 One of the things I enjoyed most about my brief time at Eastercon a few weeks ago was being able to hand out copies of my latest fanzine. For my third gig as guest editor on the Hugo-nominated (!!!) Journey Planet,
jamesb,
johnnyeponymous and I have gone for the big beast: Blade Runner.

Our cover artwork is not a knock-off imitation of John Alvin's iconic poster – it's the real deal by the real guy. A year before John died in 2008 he revised his painting more to his personal liking, most noticeably by adding Roy Batty to the top right corner. I'm very grateful indeed to his widow Andrea Alvin for granting permission to reproduce it as our cover.

Here's the full Contents, in full colour throughout:

Editorials from Pete, James and Chris,

James Bacon, Acme Instant Fanzine: Ruth Long, Lynda E. Rucker, Mike Meara and Ken Marsden discuss Blade Runner

Graham Sleight, 'An Introduction to Do Androids Dream of Electric Sheep?'

C.A. Chicoine, 'A Timeline for Blade Runner

Christopher J. Garcia, 'Building to it: Training for Blade Runner'

James Shields, 'Are You a Replicant?'

Mark Hevingham, 'Bladder Run'

Robert Francis, 'Android Tears'

Tonya Adolfson, 'Stopping the Artificial Heart'

Christopher J. Garcia, '52 Weeks to Blade Runner Film Literacy'

Katura Reynolds, 'Electric Frogs'

James Mason, 'Late to the Blade Runner Party

Peter Young, 'Planet Los Angeles, 2019: The Accidental Afterlife of Philip K. Dick'

Ken Marsden, 'The Tannhauser Gate'

It's also downloadable for free from eFanzines.com as a PDF here. Enjoy!