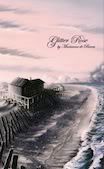 46) Marianne de Pierres,
Glitter Rose
, 2010
I picked this up in Sydney's Galaxy Bookshop and spent a very relaxed 50th birthday reading it. There are four linked short stories about a small, imaginary Australian island which has been colonised by strange spores from the ocean deeps, organisms that can bathe the beach in a pink light, create giant sandcastles that are impervious to water and subtly alter the bodies and minds of the infected island residents. There's a small ensemble cast of characters (reminding me often of
The Last Tobacco Shop in the World
) in which a new arrival to the island is constantly out of her depth and learning the hard way, plus there are deaths and strange goings on of a mystical and earthy nature. De Pierres was clearly inspired by J.G. Ballard's
Vermillion Sands
and these tales share a Ballardian atmosphere of languorous decay; undoubtedly the best story is 'Mama Ailon', a deftly composed tale about a strangely cathartic birth which brings the stories to a kind of conclusion – in her notes De Pierres says this story cycle is probably complete, but no – she absolutely must write more of these, and I must read more from her.
Tags: 2010 books, australia, marianne de pierres, science fiction, shortform