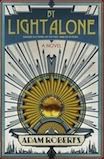 5) Adam Roberts,
By Light Alone
, 2011
Since the advent of some near-future genetic tweaking by which people can now photosynthesise sunlight into energy using their hair, hunger has become a thing of the past, and so have other things including much in the way of international conflict. But further into the future, this seismic shift in human society has simply created a new underclass of those who simply don't need to eat anymore and therefore have no real need for wealth, leaving us with a totally 'poor' majority of those who actually choose to live that way. Roberts first explored this idea in his short story 'Hair' in Geoff Ryman's anthology
When It Changed
, and this novel expands on this future and goes further into the negative effects on society of what was a once-promising biological enhancement.
The story of the kidnapping of a young rich girl at a Mount Ararat ski resort is the launch point for
By Light Alone
, but it's actually a situation that's not meant to generate much sympathy in the reader as the characters are, quite deliberately, universally obnoxious. Roberts then leads the reader on a gradual transition to the world of the peasant-like longhairs, where many of the characters are (quelle surprise) mostly similarly repellent. But it was actually at one of those transit points, where at a lecture the bereaved father George learns more about the social dynamics of the longhairs, that provided for me the most interesting point of the book and I wish Roberts had somehow gone further in
that
direction. However what ultimately followed was largely disappointing, being a ground-level travelogue of the snatched child's long journey back to New York, with the jaundiced perspective on this future that Roberts cleverly built up being largely thrown away.
Ultimately, I wish Roberts hadn't concealed his satirical purpose so much – the satire is not obvious but it's most definitely there, at least in the first two hundred pages – and instead of feeling it necessary to switch narrative viewpoints from the 'rich' West to the 'poor' East, had kept that same slightly cynical tone of voice through to the end.